In this article I will be explaining the art of getting the right type of clothes to match your body. It sounds simple, just figure out your body type and choose appropriate design and style. It is easier said than done.
I have heard many men quoting that they wear solid shirts most of the time and never ventured into any patterns. As for trousers, never gave a thought to non solid ones. Of course, solid shirts and dark trousers are safe and easy to carry off. But this easy, fail-proof dressing style comes with a major negative side. That is; you always blend with the crowd and eventually fade away.
Starting a new job after graduating is exciting, learning new things and trying to climb up the ladder makes it interesting. As you go up the ladder, just your zeal is not enough. You need to make your presence felt. Your skills and abilities are definitely the most important aspect, but your dressing sense starts to get important. When you dress well, you are able to catch the attention of your audience which will in turn help you present your skills and talent.
Here are a few quick tips which will help you make the right choices while shopping.
We all may not have the ideal physical appearance standardised by the show biz, but we can get clothes to make us more attractive in our own way.
It is utmost important that you divide your body into 5 parts and try to get clothes that check most of the criterias.
Face
Neck
Upper body
Lower body
Arm length.
Don't choose your collar style based only on your face or neck alone. The height and cut of the collar should be in sync with the face, neck and upper body. The lapel width of the jacket should be proportionate to the upper body. As for the length of the shirt and jacket, they should be in sync with the arm length.
The length of the trousers depends on the shoes you intend to wear. Keep your upper body and lower body proportion in mind to get the appropriate position for the trousers waist.
With these basic things you should be able to get the right kind of clothes to fit you.
Here is an easy guide on mixing and matching patterns and colour.
Dark colour trousers, go for lighter shade of shirts. Don't let colour mafias hijack your brain. Go for shades of pink, yellow, lavender, light green and all other pastel colours.
With light colour trousers choose dark shirts like Navy, burgundy, red, black, dark green and brown. Burgundy and green are unique and uncommon, but they are not overbearing. Our eyes are tuned shades of green and red, they are colours of nature and found around us, hence they will not be loud and glaring.
Moving on to patterns, trousers and shirts can be in stripes and checks as well. The easiest way to incorporate these patterns into daily wear is to keep 1 item solid and other with patterns.

If trousers are solid, the shirt can be with checks, stripes or other patterns. Weaves like herringbone, birds eyes and considered solids, hence the trousers can be of such weaves.
When you go for a solid shirt the trousers can be of checks or stripes.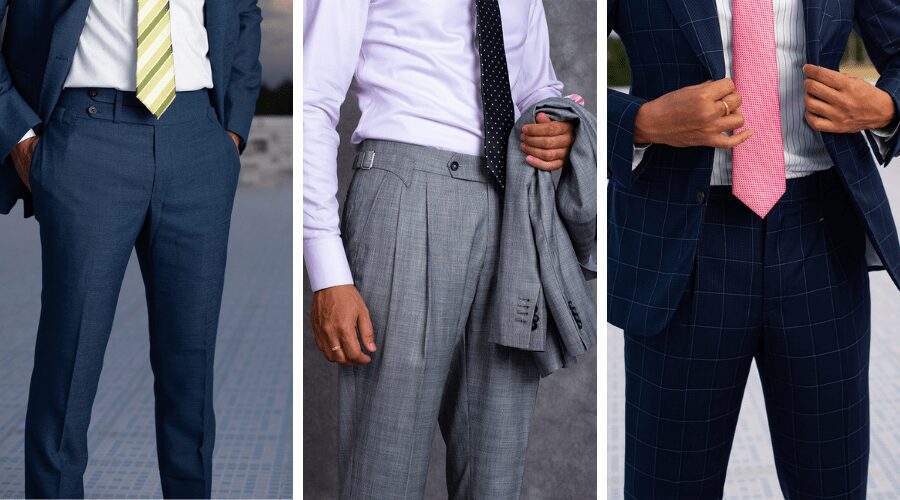 Patterns are without doubt refreshing and adventurous compared to solid, they can be intimidating if your work environment is super formal. To make it easy, I have listed a few checks and stripes shirting fabrics that can easily take the place of the usual solids.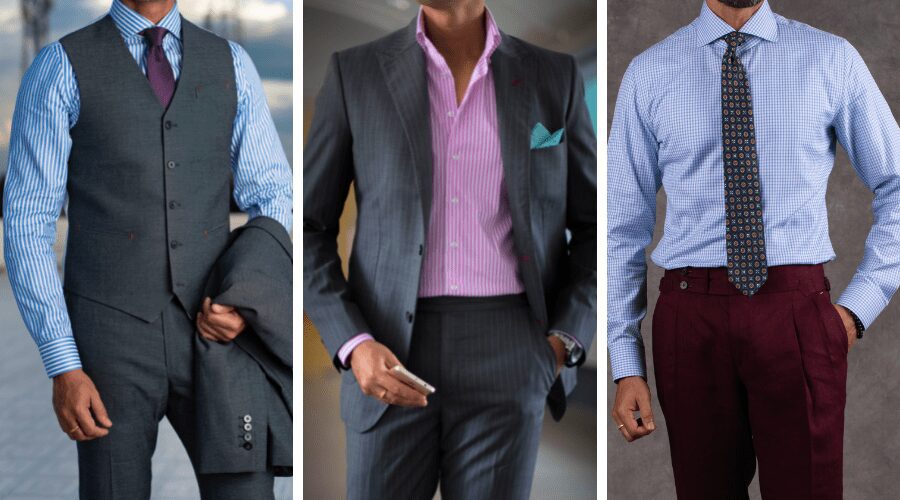 Stripes – Hairline stripes, Pencil stripes, Candy stripes, Bengal stripes
Checks – Graph checks, Mini checks, Glen checks and Hounds tooth.
Hope this article has helped you. If have any comments feel free to email me at tulsi@perfectattire.com